How to Choose a 3PL Provider: 13 Things to Look For
If you're wondering how to choose a 3PL provider that fits your needs, this guide provides a comprehensive overview.
As businesses scale, the necessity for reliable logistics becomes an increasingly significant factor in maintaining smooth operations and customer satisfaction. A third-party logistics (3PL) provider can be an invaluable partner in this aspect, offering comprehensive supply chain solutions that leave businesses free to focus on core competencies. If you're wondering how to choose a 3PL provider that fits your needs, this guide provides a comprehensive overview.
Identifying Your Business Needs
When selecting a 3PL provider, it's important to first identify your specific business needs. This process entails a thorough understanding of your current operations, long-term objectives, and the dynamics of your business model. Understanding these variables can help you identify the best-fit 3PL partner to help your business thrive.
The type of business you operate has a significant impact on the kind of 3PL provider you'll need. An eCommerce business, for instance, may require comprehensive order fulfillment solutions, while a manufacturer may primarily need transportation and warehousing services. Recognizing these nuances will help you select a 3PL provider that can address your unique needs effectively.
Business Goals and Objectives
Your long-term business goals should also inform your choice of a 3PL partner. If you have plans for global expansion, a 3PL provider with international logistics capabilities would be a valuable asset. Conversely, if you're focusing on domestic growth, you may prefer a 3PL provider with an extensive local network.
Assessing Current Operations
Examining your current logistics operations can reveal areas that could benefit from the expertise of a 3PL provider. This could encompass everything from inventory management to last-mile delivery, so be thorough in your assessment. The 3PL provider you choose should have a proven track record in addressing the specific challenges you've identified.
Analyzing Future Requirements
The scalability of your 3PL partner is another crucial consideration. As your business grows, your logistics needs will expand and evolve. The right 3PL provider should have the flexibility and capacity to grow with you, ensuring you're always able to meet your logistics challenges head-on.
What Makes a Good 3PL Provider?
Selecting the right 3PL provider is an art that begins with understanding the key attributes that define an exceptional third-party logistics partner. Let's delve into what makes a good 3PL provider.
Before you start vetting potential 3PL partners, take the time to conduct thorough market research. Understand the range of services different 3PL providers offer and how they align with your requirements. In-depth research helps to ensure that you're outsourcing for the right reasons and to the right provider.
2. Build a Partnership with a Third-Party Logistics Provider
In choosing a 3PL provider, look for a partner, not just a service provider. A strong, trusting relationship with your 3PL partner can be instrumental in the efficient management of your supply chain. The best 3PL providers function as an extension of your team, offering insights and expertise to help your business succeed.
3. Look for a Range of Offerings
A good 3PL provider should offer a wide array of services, including warehousing, transportation, order fulfillment, and returns management. AMS, for instance, provides an extensive range of warehousing services that cater to diverse business needs.
4. Choose a Tech-Focused 3PL Provider
In today's digital age, the importance of technology in logistics cannot be overstated. A tech-focused 3PL provider can offer advantages such as real-time tracking, automated inventory management, and data-driven insights to help you optimize your operations.
A scalable 3PL partner is essential for growing businesses. They should have the ability to handle increases in volume during high-demand periods and adjust their service level according to your changing needs.
Stability, both financial and operational, is a crucial factor in choosing a 3PL provider. A stable partner can deliver consistent, reliable services that ensure your supply chain runs smoothly.
Let AMS' Warehouse Services Do It for You
7. Look for a 3PL That's Growing and Has Experience with Companies in Your Industry
A growing 3PL provider is likely to be a stable and reliable partner. Their growth signals success and customer satisfaction. Additionally, a 3PL provider with experience in your industry will have a deep understanding of the unique challenges and opportunities your business faces.
8. Determine Customization Capabilities
Your business is unique, and your 3PL partner should recognize that. Look for a provider that offers flexible, customized solutions tailored to your specific needs.
9. Find a 3PL that Services a Large Network of Locations
If your business operates across a wide geographic area or you have plans for expansion, a 3PL provider with an extensive network will be a significant asset. Choose a partner, like AMS, that can support your needs wherever your business takes you.
10. Find a 3PL Partner That Offers Omni-channel Expertise
With the rise of eCommerce and the proliferation of sales channels, an effective logistics strategy must account for all customer touch-points. A 3PL partner with omni-channel expertise can ensure a seamless customer experience across all platforms.
11. 3PL That Prioritizes Safety and Security
Your 3PL provider should prioritize the safety and security of your products and data. Compliance with safety regulations and robust data protection measures are must-haves.
12. Provides Good Customer Service
Your 3PL provider should value your business and provide outstanding customer service. Good communication and responsive service are key indicators of a 3PL partner that will support your business's success.
13. Choose a Third-Party Logistics Provider with a Positive Reputation
Choosing the right 3PL provider is a strategic decision that can redefine the trajectory of your business. It's a move that not only streamlines your operations but can also unlock growth and scalability, making your supply chain a strategic asset rather than a cost center.
AMS is a 3PL provider committed to partnering with businesses, offering comprehensive, tech-forward, and customizable logistics solutions. With our robust network and a track record of successful collaborations across industries, we are poised to help businesses leverage logistics for their success.
Unleashing Business Potential: Your Next Step with AMS
If you're ready to take the next step towards operational excellence, we invite you to contact us at AMS today. Our experts are ready to discuss your specific needs, objectives, and how we can tailor our services to accelerate your business growth.
For those interested in learning more about the multifaceted world of 3PL logistics, we encourage you to visit our blog. It offers a wealth of insights and valuable information on the industry and how businesses can optimally leverage 3PL services.
For a comprehensive understanding of the differences and the advantages of using 3PL and 4PL providers, do check out our detailed comparison guide. It's an excellent resource that can aid your decision-making process as you explore the potentials of third-party logistics.
In conclusion, knowing how to choose a 3PL provider can be transformative for your business. The journey begins with understanding your needs and leads to a strategic partnership that fosters growth, scalability, and long-term success. Start your journey with AMS today and redefine what's possible for your business.
Free Warehouse Design Tools
Warehouse Capacity Calculator
Need help figuring out the total volume of usable space in your warehouse? We built a simple tool to help you calculate that.
Pallet Storage Capacity Calculator
The pallet storage capacity calculator quickly determines the total number of pallets your warehouse can store based on rack configuration.
Uncover the role of warehousing in the supply chain. Explore functions, benefits, and innovative solutions. Read on for valuable insights!
Read More »
Warehouses should use key performance indicators to improve operations. But what are KPIs and how can you implement them? Read to find out!
Read More »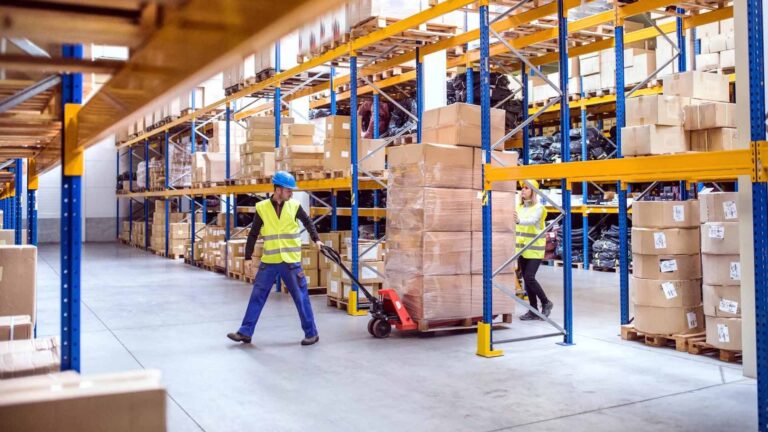 This warehouse management article helps you understand practical advice for any business that is involved in running warehousing operations.
Read More »
Looking for a warehouse partner?
Trust our classic customer service.
There was a time when businesses revolved centrally around the customer and their needs. Decisions were made based on what is best for the customer first. People did what they said they would, and jobs were completed on time. AMS carries on the tradition of customer service today.