Warehouse Safety: 5 Steps to Implement a Warehouse Safety Plan
Learn the 5 basic steps to implement a warehouse safety plan. Plus real-world checklists to help you maintain a safety warehouse system.
Warehouse safety is essential for protecting workers in the workplace and ensuring that all operations run smoothly. In this article, we examine the topic of warehouse safety, some reasons why it's important, and 5 simple steps to follow if you want to implement your own warehouse safety plan. Additionally, we discover some tips and best practices for improving safety in your warehouse.
Overview of Warehouse Safety
Warehouse operations require a wide range of activities, from product storage to loading and unloading trucks, which can present many potential hazards to employees. These hazards can include slips, trips, falls, and even long-term disease from physical injury. Safety protocols in a warehouse help reduce the risk of these hazards and protect the integrity of the goods.
Why is warehouse safety important?
Warehouse safety is important because first and foremost it ensures that employees' health is protected. In addition to that, good safety in a warehouse helps maintain customer satisfaction which keeps businesses thriving in today's competitive market landscape. It also ensures that the goods are stored safely with minimal damage and without causing any additional expense to the business.
By adhering to warehouse safety regulations, businesses can save money on medical costs associated with workplace accidents and insurance premiums. Additionally, workers' compensation claims for injury or illness resulting from dangerous working conditions can be avoided or minimized by following safety protocols in a warehouse. This helps businesses avoid potential liabilities and costly legal proceedings that could have a long-term negative impact on their reputation. Furthermore, providing an adequate level of safety in a warehouse helps ensure that all employees feel secure while they perform their duties.
5 Steps of the Warehouse Safety Plan
The following outlines the our 5-step process to establish and improve warehouse safety. While your process doesn't have to be the same as ours, you do need to have a process. We encourage you to follow our process, or use it as a foundation to establish your own.
Identify Warehouse Hazards: The first step in establishing warehouse safety is to identify potential hazards in the workplace. The most common hazards include slips, trips, falls, and long-term health effects from physical injury. Other potential hazards could include improper storage of hazardous substances, inadequate lighting, insufficient ventilation, or poorly maintained equipment. Safety personnel should assess the risks posed by these hazards to determine what steps need to be taken to reduce them.
Develop a Warehouse Safety Program: After identifying potential hazards, the next step is to develop a comprehensive safety program tailored to those specific risks. This plan should include detailed procedures for reacting to identified hazards as well as prevention measures such as proper maintenance of equipment. It should also include a process to train employees on core safety regulations as well as how warehouse employees should handle emergency procedures.
Document the Plan: Warehouses need to create extensive documentation for their safety protocols so that everyone involved with managing operations within this space can understand what needs to be done when certain situations arise or when new procedures are implemented into daily routines of operation at any given time. Having this information readily available allows not only a quick response but also helps ensure accountability among everyone involved with handling these types of tasks.
Implement Policies & Procedures: Once a safety program has been developed, it must be implemented into daily operations at the warehouse facility. This includes setting up clearly marked pathways and exits, installing adequate lighting and ventilation systems, providing regular maintenance on all machines used in the facility, and educating employees about safe working practices through properly enforced policies and procedures.
Monitor & Evaluate Safety Practices: Once a warehouse safety plan is in place, you can't just walk away and call it complete. Continual monitoring and evaluation of existing policies are important, especially as changes occur. Qualified personnel should conduct regular inspections to ensure compliance with the plan. They should also look for any new dangers that may have arisen since prior inspections took place.
Types of Hazards in Warehouses
The reason that warehouses are hazardous workplaces is because they are often filled with heavy loads, complex machinery, and other possible dangers. A comprehensive understanding of the types of hazards present in warehouses helps immensely when working towards an effective safety program. Here's a list of the main hazards in a warehouse:
Let AMS' Warehouse Services Do It for You
Best Practices for Warehouse Safety
Now that you understand the main areas of risk, here are some basic warehouse safety tips for helping to ensure your warehouse and warehouse workers are as safe as possible. If you follow these best practices for warehouse safety, you can help ensure your workers' well-being and eliminate costly issues.
A warehouse design should emphasize proper ergonomics. If workers are required to lift heavy boxes or bend at cumbersome angles, it can cause injury. At the same time, the warehouse layout should provide adequate space for forklifts and other machinery so that workers are not cramped or exposed to potential collisions.
Additionally, passageways should be marked with aisle signs and warehouse floor kept clear of any obstructions. Proper lighting is also necessary to ensure worker safety as they move about the warehouse.
Maintenance plays an important role in warehouse safety by ensuring that equipment is functioning properly and is regularly serviced. Any spills or messes should be cleaned up immediately to avoid trip hazards or contamination risks.
Meanwhile, regular deep cleaning should take place to further exposure to harmful environmental issues. All moving parts of machines should also be guarded properly as they can cause laceration or crush injuries if exposed.
Employees must understand the various risks associated with warehouse work to prevent accidents or injuries from occurring. This includes receiving proper training on how best to minimize these risks by utilizing appropriate personal protective equipment (PPE) when necessary and understanding proper lifting techniques etc. Employees should also receive fire safety training on how to respond in the event of an emergency.
Warehouse Safety Checklist Examples
According to OSHA, there should be several checklists in warehouse safety. One overall "general" list, and at least 3 other specific checklists. Please visit OSHA for the official guideline. Here is our simplified version of their checklists:
General Warehouse Safety Checklist:
Materials Handling Safety Checklist:
Hazard Communication Safety Checklist:
Forklift Safety Checklist (Part 1):
Forklift Safety Checklist (Part 2):
Benefits of Adhering to Warehouse Safety Regulations
Adhering to warehouse safety regulations can provide numerous benefits for both employers and employees alike. For employers, a safe working environment leads to improved productivity as workers are less likely to suffer from illnesses or injuries caused by hazardous conditions.
For employees, morale tends to benefit greatly from a corporate focus on warehouse safety. The positive response that usually follows a reduction in potential injuries is a performance improvement. Aside from that, employees mostly appreciate the focus on their well-being, thus improving overall morale within the workplace.
In addition, instituting a safety plan demonstrates employers' commitment to creating a healthy working environment for their staff, which helps attract top talent. New hires, especially highly talented ones, often value a safe workplace where they can reach their maximum potential without placing themselves at risk due to hazardous conditions or stressful situations.
Finally, adhering to warehouse safety regulations is also beneficial for customers too as it helps eliminate risks posed by mishandled goods before they reach end users.
Resources for Further Information about Warehouse Safety
There are several different resources available for employers and employees alike who are interested in learning more about warehouse safety regulations. For employers, the Occupational Safety and Health Administration (OSHA) is an excellent source of information as they provide guidelines on how to ensure that warehouse operations are conducted safely and legally in compliance with applicable laws. Additionally, they also provide resources such as online tutorials, videos, and fact sheets which can be used to help educate employers and workers on specific topics related to warehouse safety.
Industry organizations such as the National Safety Council or local business associations often host seminars or workshops focusing on workplace health and safety. Attending these events is a great opportunity for those who want to learn more about how best to protect everyone involved in warehouse operations from potential risks.
In addition, there are also books available that cover all aspects of warehouse safety from hazard identification and risk assessment to ergonomics, equipment maintenance, load lifting techniques, and fire prevention strategies. These books can be invaluable for both employers and employees who seek further knowledge on how best to remain safe while working in a warehouse environment.
Finally, numerous online articles (such as this one) focus on different topics related to warehouse safety regulations such as hazardous materials handling, PPE requirements and proper storage methods.
Free Warehouse Design Tools
Warehouse Capacity Calculator
Need help figuring out the total volume of usable space in your warehouse? We built a simple tool to help you calculate that.
Pallet Storage Capacity Calculator
The pallet storage capacity calculator quickly determines the total number of pallets your warehouse can store based on rack configuration.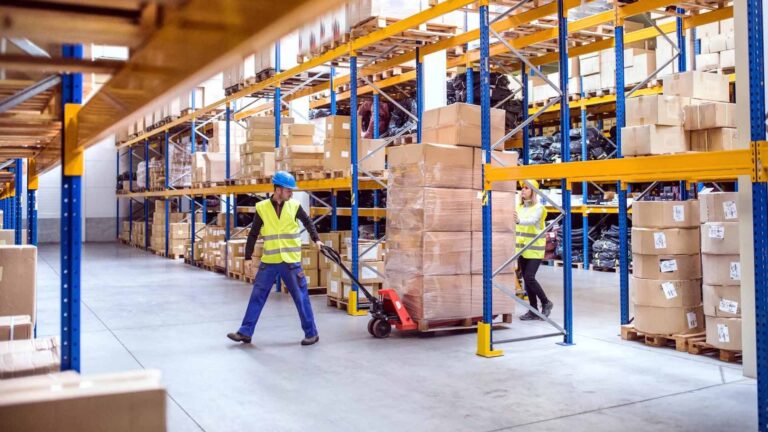 This warehouse management article helps you understand practical advice for any business that is involved in running warehousing operations.
Read More »
To help you avoid and correct warehouse shipping mistakes, we have put together a list of actionable tips and information in this article.
Read More »
Discovering the 6 most costly warehouse mistakes and the simple preventative ways to fix and avoid them all together.
Read More »
Looking for a warehouse partner?
Trust our classic customer service.
There was a time when businesses revolved centrally around the customer and their needs. Decisions were made based on what is best for the customer first. People did what they said they would, and jobs were completed on time. AMS carries on the tradition of customer service today.